Canadian men rally from early deficit to beat Brazil and move up to world rankings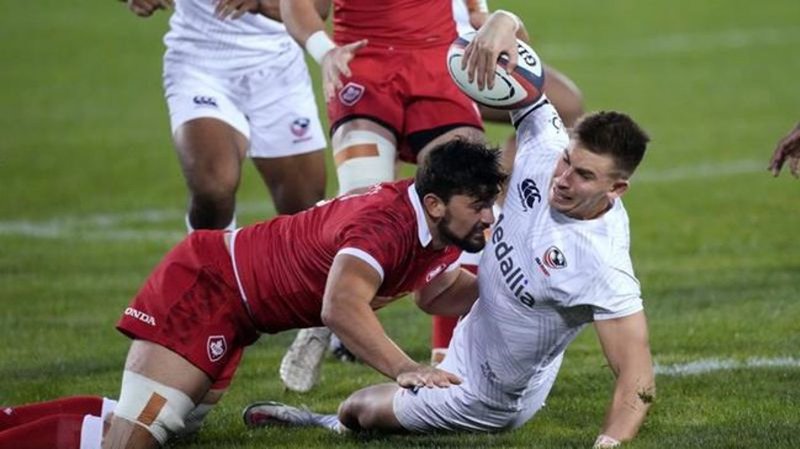 "Great evening for the players," said Canada coach Kingsley Jones.
"Players talk about Canadian grit, and the most pleasing thing for me was that when we were in the lead with a couple minutes left, we kept Brazil out with a great defensive set," he added. "Learning how to win, that's one of the biggest things to take away from this. Understanding why we put ourselves in certain positions, like at the start, and how when we play the right way we're able to build momentum and take control of the game."
Canada opened the tournament with a 42-20 loss to Spain. The U.S. defeated Brazil 48-3.
After Brazil jumped into a 10-0 lead in the first 11 minutes, Canada pulled ahead on a pair of converted tries by Rumball.
Oworu, with his first-ever international 15s try, added to the lead two minutes into the second half. Keith, Coe and Rumball, in his 51st international appearance, completed the scoring.
"Last week we were really disappointed," said centre Ben LeSage. "We took a long look in the mirror, one through 23, especially some of our senior boys who started the match. So I think it was a pleasure to take the field and get an opportunity to right the ship this week.
"The first 10 minutes didn't go the exact way we planned it, but we turned it around. We knew if we could stay in the game we could win the physicality. We've got the fitness. We're pleased to put in an 80-minute performance and finish on a note to be proud of."
Reid Watkins earned his first cap for Canada, entering the match in the second half.
The game was the last of the year for the Canadian men.
—
This report by The Canadian Press was first published Nov. 18, 2023
The Canadian Press