Ex-UND RB Oliveira is top Canadian in CFL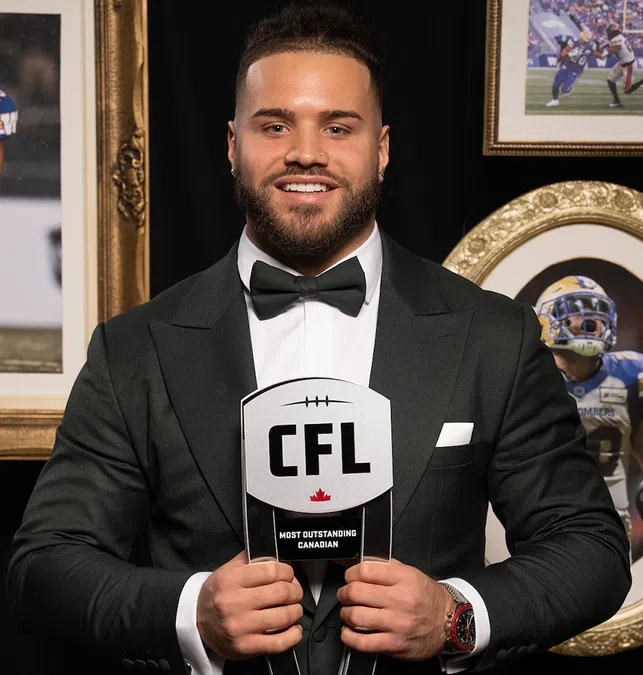 Former UND running back Brady Oliveira of the Winnipeg Blue Bombers has been named the Most Outstanding Canadian Player in the Canadian Football League.
The Winnipeg native led the C-F-L with 1,534 rushing yards and 2,016 yards from scrimmage.
Oliveira and the Blue Bombers play the Montreal Alouettes on Sunday in the C-F-L championship game, the Grey Cup, held in Hamilton, Ontario.
=  =
Former North Dakota running back Brady Oliveira was one of seven individuals to receive honors from the Canadian Football League (CFL) at Fallsview Casino & Resort on Thursday night.
Oliveira earned the title of Most Outstanding Canadian after establishing career-highs in rushing yards (1,534) and yards from scrimmage (2,016) to lead the league and become the second-ever Canadian to reach 1,500 yards and 2,000 yards from scrimmage. This was the former Fighting Hawk's second 1,000-yard rushing season and his first time eclipsing the 1,500-yard mark. He is the 15th player in CFL history to reach 2,000 yards from scrimmage in a single season. Oliveira led the league with seven 100-yard rushing games and set career-bests in receptions (38), receiving yards (482) and total touchdowns (13 – nine rushing and four receiving).
 "It's been incredible, and I'm truly blessed," said Oliveira. "I appreciate my teammates and my coaches. Being able to get to work with those guys every single day makes it a lot more enjoyable and a lot more fun to get to go to work with a group of men like that. I talk of them all the time about our offensive line and receivers… I mean it man, this is our award. If you watch the tape, there's sometimes I'm running 4-5 yards before I even get touched and that's credit to my offensive line, the receivers and then obviously the coaches that do a great job of preparing us every single week."
The Winnipeg native is just the 11th Blue Bomber to win the award and the first since Andrew Harris in 2017. Oliveira received 57 first-place votes and was also nominated for Most Outstanding Player.
Winners for each award were selected by a panel of voters, including representation from the Football Reporters of Canada (FRC) from all nine CFL markets, members of the national chapter of the FRC and the nine head coaches of the CFL. In total, 61 ballots were completed.
The CFL Awards are part of the Grey Cup Festival from Nov. 13-19, which include over 40 events to captivate football fans, music lovers, athletes and families alike. It features events organized by various community organizations, such as Sonic Unyon (Supercrawl), Around the Bay and Hamilton Santa Claus Parade, among others that are contributing to building a contemporary Hamilton. Additional information, event listings and full details can be found at Greycupfestival.ca. 
Oliveira and the Winnipeg Blue Bombers will battle the Montreal Alouettes for the 110th Grey Cup in Hamilton at Tim Hortons Field on Sunday, Nov. 19. Kickoff is slated for 5 p.m. (CT).
.
(Release, photo: UND Athletics)