Million Veteran Program director speaks at international forum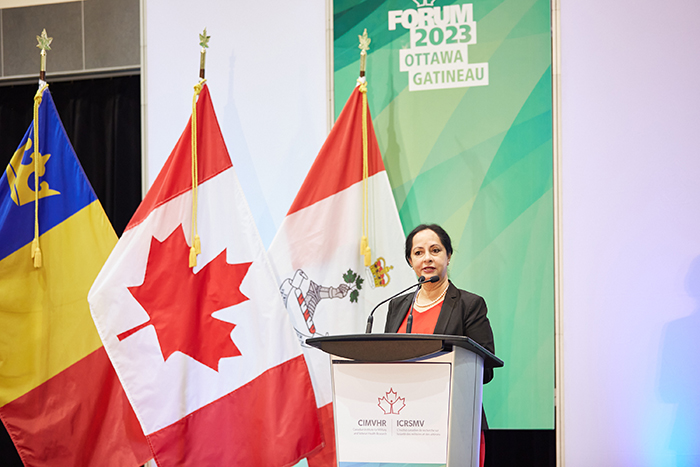 Dr. Suma Muralidhar was the keynote speaker at the 2023 Forum of the Canadian Institute for Military and Veteran Health Research in Quebec, Canada. (Photo © Wellington Imagery)

Million Veteran Program director speaks at international forum

November 20, 2023
By Erica Sprey

VA Research Communications

"I appreciate learning about the research presented at the forum. I look forward to exploring opportunities for future collaboration."
WASHINGTON—Dr. Sumitra Muralidhar, director of VA's Million Veteran Program (MVP), recently shared her experiences and future vision for the program as a keynote speaker at the 2023 Forum of the Canadian Institute for Military and Veteran Health Research (CIMVHR) at Gatineau, Quebec, Canada.
As a founding member of MVP, she took attendees through the journey of building MVP from  Veteran focus groups, through development and recruitment, to the creation of a secure research infrastructure critical for helping health science discoveries deliver clinical impacts.
"I appreciated the opportunity to learn about the expansive research presented at the forum," Dr. Muralidhar said. "I look forward to exploring opportunities for future collaboration."
The CIMVHR Forum 2023 is an international conference that highlights health research for military personnel, Veterans, public safety personnel, and their families. Each year, CIMVHR brings together thought leaders from government, academia, industry, and philanthropic sectors to present new research, exchange ideas, share insight, learn, and collaborate.
The conference welcomes participants from around the world, notably the U.K., U.S., Netherlands, Australia, and Israel. By highlighting key strategic components of MVP, Dr. Muralidhar was able to outline for an international audience how VA Research has advanced and led innovations in personalized medicine to benefit the world.
Other featured speakers included representatives from the Phoenix Australia Centre for Posttraumatic Mental Health, McMaster University, the Public Health Agency of Canada, Queens University, University of Regina, Veteran Affairs Canada, Canadian Forces Health Services, University of Ottawa, and Brigham and Women's Hospital in Boston.
MVP is one of the world's largest biorepositories, compiling genetic, health, and lifestyle data to enable a state-of-the-art, genetic research program. Since its launch in 2011, MVP has enrolled more than 1,000,000 Veterans. Some of the largest and most diverse genome-wide association studies were fueled by MVP data, leading to novel findings that help explain the underlying mechanisms of health conditions like heart disease, cancer, PTSD, and depression. During the COVID-19 pandemic, the MVP program played a pivotal role in enrolling research volunteers for vaccine trials and collecting data on Veterans' clinical experiences with the new coronavirus.
Dr. Muralidhar also serves as the director for the VA-Department of Energy (DOE) Joint Research Program, which leverages MVP data with DOE's high-performance computing expertise and artificial intelligence programs to advance precision healthcare for Veterans. Her attendance at the CIMVHR Forum not only highlighted VA's state-of-the-art genetic research program, but extended opportunities for VA to network with the scientific community in Canada and other nations.
VA Research Currents archives || Sign up for VA Research updates