NBA Trade Rumors: Kings Expected to Pursue Stars; LaVine, Siakam, Anunoby Linked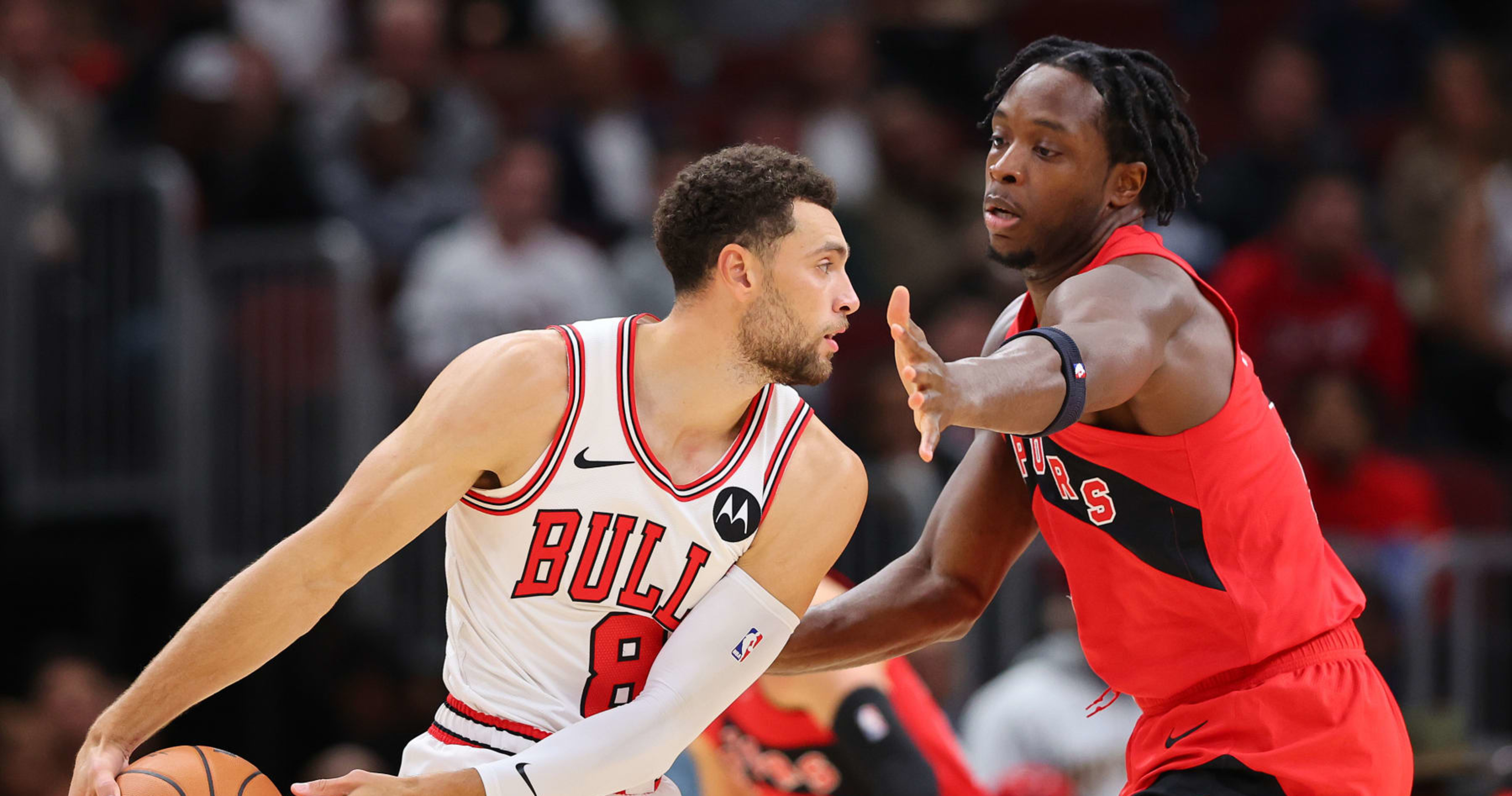 Michael Reaves/Getty Images
The Sacramento Kings could attempt to acquire a star to put alongside De'Aaron Fox and Domantas Sabonis via trade, according to Shams Charania of The Athletic.
"They are going to be involved in every star player," Charania said. "Pascal Siakam, OG Anunoby, maybe Zach LaVine. …They've done a good job at keeping their assets, they have tradeable contracts. So they're gonna be a player for stars coming up, for sure. I think eventually, they could add a third piece."
After making the playoffs in 2022 for the first time in nearly 20 years, the Kings have gotten off to a strong 8-4 start this season.
Fox is averaging a career-high 31.9 points through seven contests while Sabonis is recording 20.8 points, 12.9 rebounds and 7.2 assists per game. The two All-Stars have formed one of the best duos in the NBA since they joined forces in Feb. 2022.
However, Sacramento's impressive 2022-23 season came to a bittersweet conclusion after they lost a hard-fought series against the Golden State Warriors in seven games. It appears that general manager Monte McNair could explore avenues to further improve the Kings into a true championship contender.
Chicago Bulls shooting guard Zach LaVine has been involved in trade rumors following the team's 5-9 start to the season, according to The Athletic. The two-time All-Star has struggled with his efficiency to begin the year, shooting just below 43 percent from the field while hitting 34 percent of his threes.
However, LaVine has been one of the league's best scorers prior to this season. Over the previous three years, the 28-year-old averaged 25.4 points per game while shooting 49 percent on field goals and 39 percent from behind the arc.
The Toronto Raptors have also gotten off to a slow start, owning a 6-7 record through 13 games. Although Siakam has made two All-NBA teams with Toronto, it appears that the team is pivoting towards building around 22-year-old Scottie Barnes for the future.
Raptors team president Masai Ujiri could deal Siakam and All-Defensive team forward O.G. Anunoby in order to kickstart a rebuild around Barnes.
If the Kings are looking to acquire a prominent player to make an impact alongside Fox and Sabonis, McNair should have several options available.