Tennessee basketball geared up for stout Maui Invitational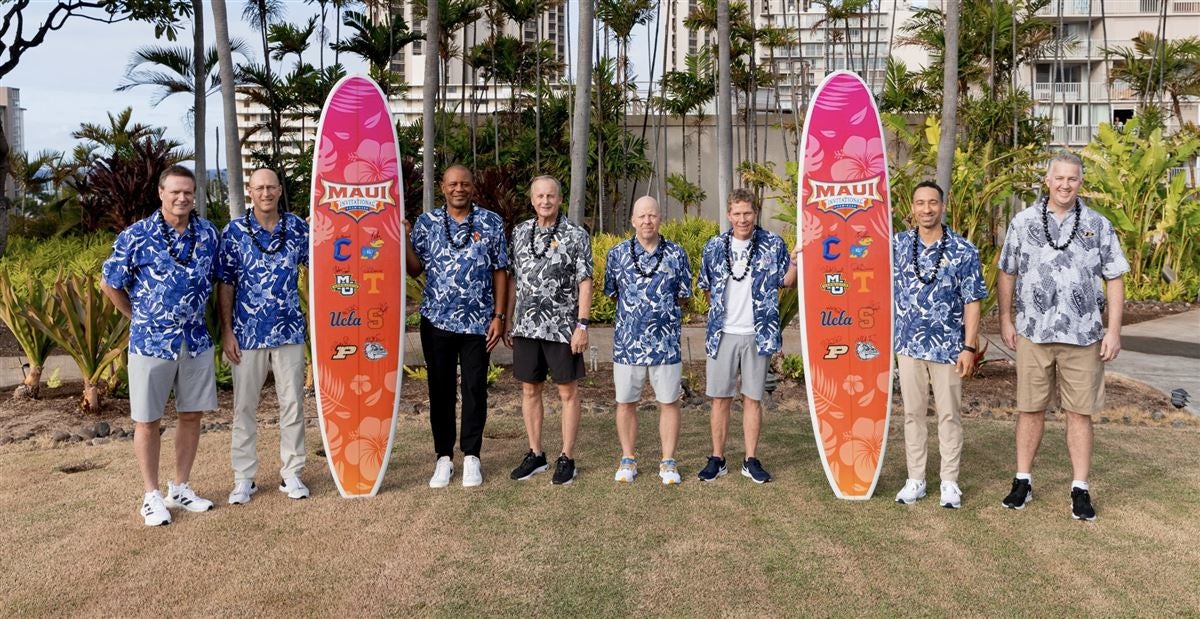 Rick Barnes had Deja vu on Friday while walking around the University of Hawaii, the day after Tennessee basketball arrived in Honolulu for this year's Maui Invitational.
Barnes previously made his way to Honolulu in the late 80's as an assistant coach for Ohio State when it was called the Rainbow Classic. Barnes recalls the event that year consisting of mostly ranked teams to form a great field.
Recalling his trip to Hawaii with the Buckeyes brought on Deja vu because this year's Maui Invitational field is considered one of the toughest field the event has ever seen.
"I don't know if you can get one better than where the teams are playing right now," Barnes told the media on Friday about this year's tournament. "And all of them are geared up to have a pretty good year."
This year's Maui Invitational features five of the top 12 teams in the country, along with another ranked team, in No. 1 Kansas, No. 2 Purdue, No. 4 Marquette, No. 7 Tennessee, No. 11 Gonzaga and UCLA, who is ranked No. 25 in the Coaches Poll.
The Jayhawks (Big 12), Golden Eagles (Big East), Boilermakers (Big Ten) and Volunteers (SEC) were all the preseason picks to win their respective conference.
Tennessee (3-0) will play three games in three days against the field. UT will open against Syracuse (3-0) on Monday afternoon at 2:30 p.m. ET on ESPN2. It'll then play Purdue or Gonzaga on Tuesday before finishing the week with a third game in three days on Wednesday.
"I'd say two things," Vols fifth-year guard Santiago Vescovi said about the difficulties of playing three games in three days. "The first one is definitely I'd say distractions. Hawaii, it's a beautiful place, like a paradise over here, and I think that's one of the main things. Bahamas was the same thing. I think the team did a great job of focusing on what it took. We're here to play basketball and do our jobs, so I'm completely confident the team is gonna do great in that aspect again.
"And the second thing is recovery and just the loads of playing three games straight, managing that, which we also did great last tournament in Bahamas. So I think those are the two main things and I know this team can take care of both of them."
The Vols are 3-6 all-time in the Maui Invitational, going 1-2 in 2016 (seventh place), 1-2 in 2011 (seventh) and 1-2 in 2004 (fourth).
Tennessee won the Battle 4 Atlantis a season ago with wins over Butler, USC and third-ranked Kansas in Paradise Island, Bahamas. UT is 9-8 across seven multi-team events in Barnes' first eight seasons, including 6-3 in three tournaments outside the continental United States.
Syracuse produced one of the greatest rallies in program history in its last outing, coming back from a 24-point, second-half deficit to defeat Colgate last Tuesday, 79-75.
The Orange have four players averaging double-figure scoring through three games — guards Judah Mintz (23.0 ppg.) and JJ Sterling (13.3), and forwards Chris Bell (14.0) and Justin Taylor (11.0) under first-year head coach Adrian Autry.
"We know they have a really good team," Vescovi said. "They have good guards and a really good big man. I believe he's like seven-four and we know it's a team that is trying to figure out stuff, too. I think they have a new coach now. They're trying to put all the pieces together so we know it's gonna be a battle and yeah, we're ready to play 'em."